Web3 brand venture studio Noir is proud to be partnered with O-MEE, An NFT marketplace & subscription service for building audiences of true fans in Web3.
Noir previously worked closely with O-MEE to create a clear and differentiating brand strategy, helping O-MEE to compete with already-established marketplaces and social networking platforms.
About O-MEE We're entering a new era, an ever-changing era. From the metaverse to NFTs, everything is new–and it's coming at us fast. Web2 is starting to seem like a distant memory where we're still giving away art for hearts and likes.
It's time to re-invent. Unfriend the typical social feeds. Unlike shady algorithms. Unfollow ads. O-MEE are giving you your independence and equity back so you can experiment, compose and innovate.
O-MEE is a social subscription and NFT Marketplace for Web 3.0. Through forging your own path and challenging what art can be, O-MEE is giving you the chance to reinvent your future.
The platform allows creators to upload their latest pictures and videos, live stream to their followers or blog their latest moves. Users are able to connect their social media accounts to transfer their latest posts and media content.
Plug-in technology allows users to republish and mint content onto their O-MEE profile and is displayed for their followers to like, interact and share. In addition, users have the option to create and mint new content allowing them to add more exclusive posts for their subscribed followers. All content on the platform will be an NFT giving users the option to sell it on their NFT marketplace.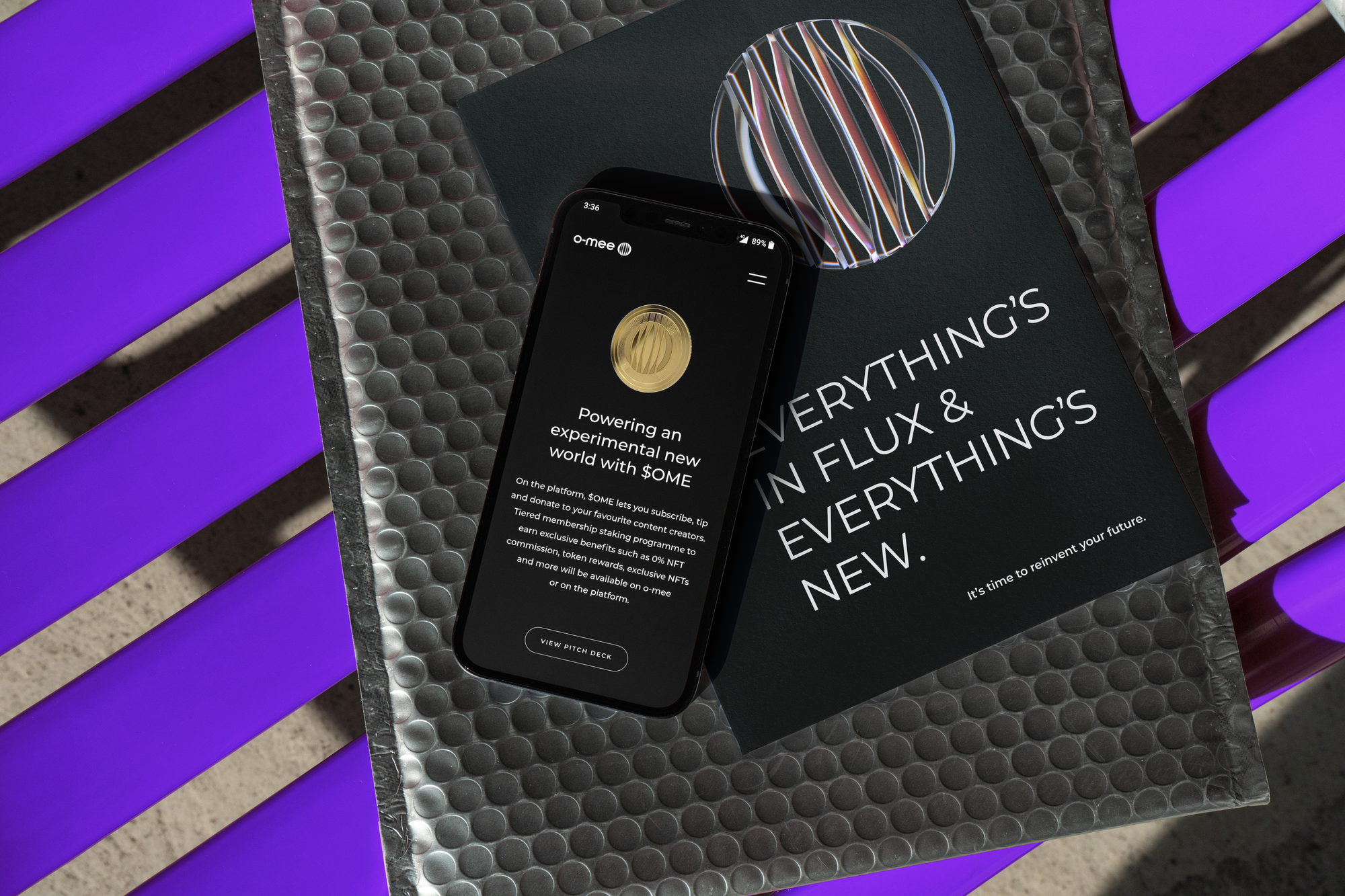 O-MEE Platform Features
NFT Marketplace: Explore, discover, collect, bid, buy, sell and mint exclusive NFTs and digital artwork.
Subscription Model: Subscribe to your favourite creators and gain exclusive and unrestricted access to their profile and NFTs with a zero percent commission rate on all revenue generated.
Sociability: Interact, engage, message, share, like, promote and connect with creators and the community.
Create and Republish Media: Experiment, innovate and create pictures and videos for your followers. Integrated API connectors allows users to republish and mint existing pictures and videos from mainstream media sharing apps such as Instagram, YouTube and TikTok.
DeFi: Staking membership programme and farming partnerships gives users and token holders the ability to earn
Ownership: Users own 100% of their content. No middlemen. No third party fees. No censorship.
No Oppressive Algorithms: Be in control of your content feed through their filter tool. You decide what you see.
"It was extremely important for us to create a brand vision and identity that provides a strong and meaningful message that connects our project to our community, users and audience. Noir's individualistic approach to branding challenges the traditional and everyday design paradigm that truly makes O-MEE a trustworthy and memorable project."–Jared Walker, CEO of O-MEE
How Noir can help
We understand that communities converge around impactful brands with an inspiring narrative. We help founders build their brand around the community, the technology and the market to achieve their project's vision for the future.
Get in touch on Telegram to see how we can supercharge your web3 project in 2022.
Author:
Dilen Pattni Brand Marketer