Malibu, a subsidiary of Absolut, has filed NFT patents to create bars in virtual reality. If you like to drink and dance to destress, these virtual experiences might be your new virtual reality therapy.
Judging by their patent applications, they also plan to offer virtual marketplaces for digital goods and NFTs, including offering virtual clothing for your digital avatar.
Raising the Bar
Despite settling stagnation in the crypto market, many major brands and labels are looking to NFTs and virtual goods to increase their online presence, prepping for what's to come.
And whether its wine or rum you're buying, it looks like Malibu will be the next, as they look to operate a virtual bar/restaurant, with provisions of online marketplaces for buying and selling digital assets.
If you're in search of virtual reality tourism experiences, maybe Malibu's virtual bars could be your port of call. While it's currently up to speculation, beach bars would certainly be on-brand for the coconut-flavoured spirit company.
The full trademark application can be seen below, recently posted by Trademark Attorney Michael Kondoudis: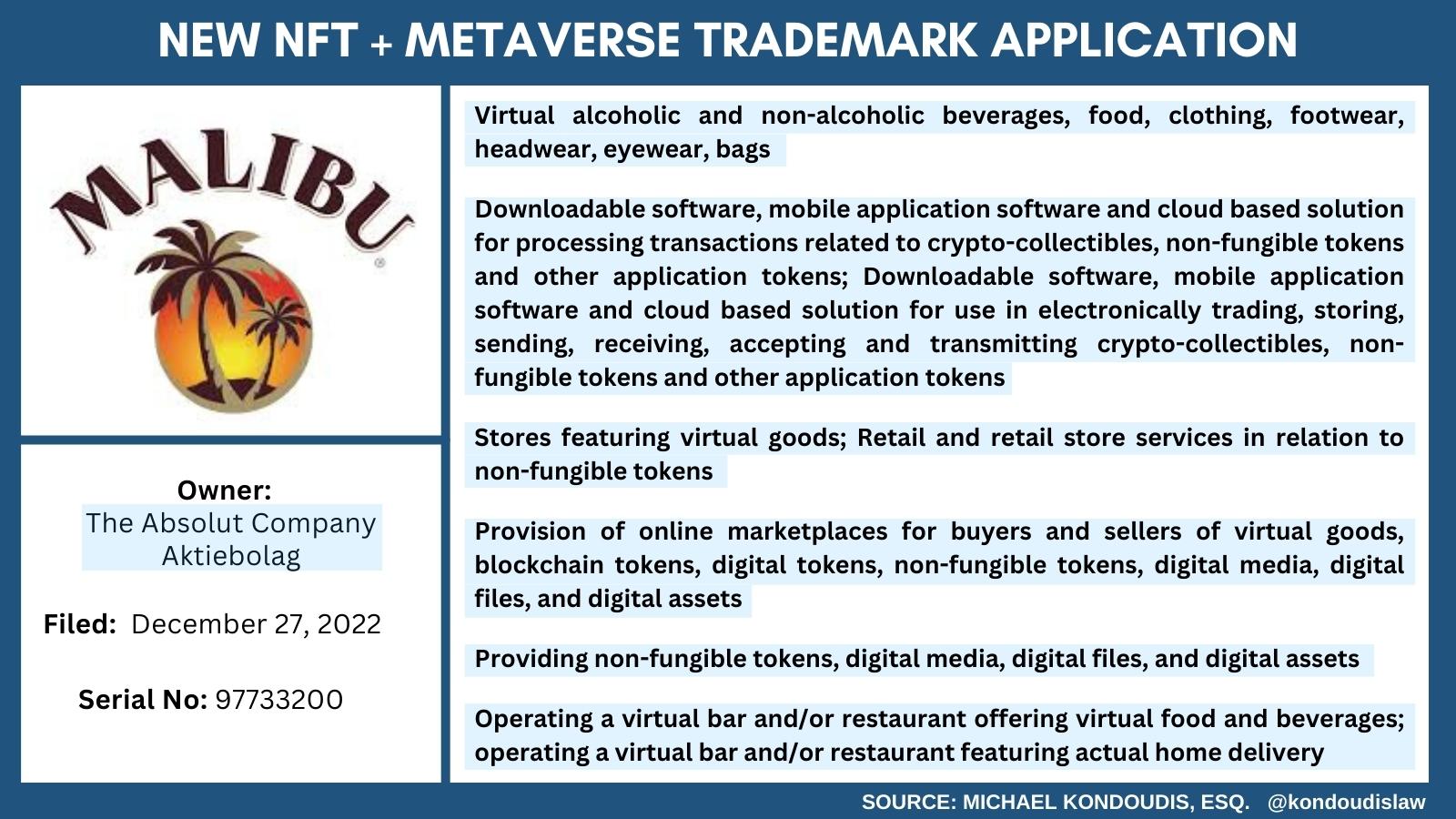 More than Meets the Eye?
Malibu will be joining the likes of whiskey-makers Jack Daniels and Kinahan's in web3–among many others. While it seems to be yet another brand not wanting to feel left out, the most interesting part of the trademark application could be the virtual bar/restaurant "featuring actual home delivery".
This is likely to be a VR Bar where users talk to a virtual agent and get food or alcohol delivered to their (real) home–a new form of customer experience, empowered by wearable virtual reality headsets. And while it might seem like a fad, VR Bars could offer those with social anxiety, physical disabilities, or social phobias a way to enjoy an experience much like the real-life counterpart.
This push would also see Malibu stand toe-to-toe with places like Pickl, the first restaurant in the United Arab Emirates to 'join the metaverse' by opening a virtual reality restaurant. Here, customers can order in VR by speaking to digital avatars.
How and where exactly Malibu's physical-digital delivery system would operate is still up in the air, and the nature of any potential NFTs or digital goods is also a mystery. Both could be a good way to incentivise and reward fans of the brand through token-gated experiences like special digital and physical events.
With the launch of their virtual bars, Malibu will join the metaverse to pave way for a new era of nightlife. Whether you're looking to unwind after a long day, have a drink with friends, or just have a little fun, these virtual bars could let you have happy hour at home.